Organizations are accelerating digital transformation and cloud migration to better respond to COVID-19 and other external factors.
The  Flexera 2021 State of Tech Spend Report provides granular data and insights into how companies are spending on technology, the major initiatives they're investing in, how they're tracking and managing IT spend and the challenges they face in optimizing spend.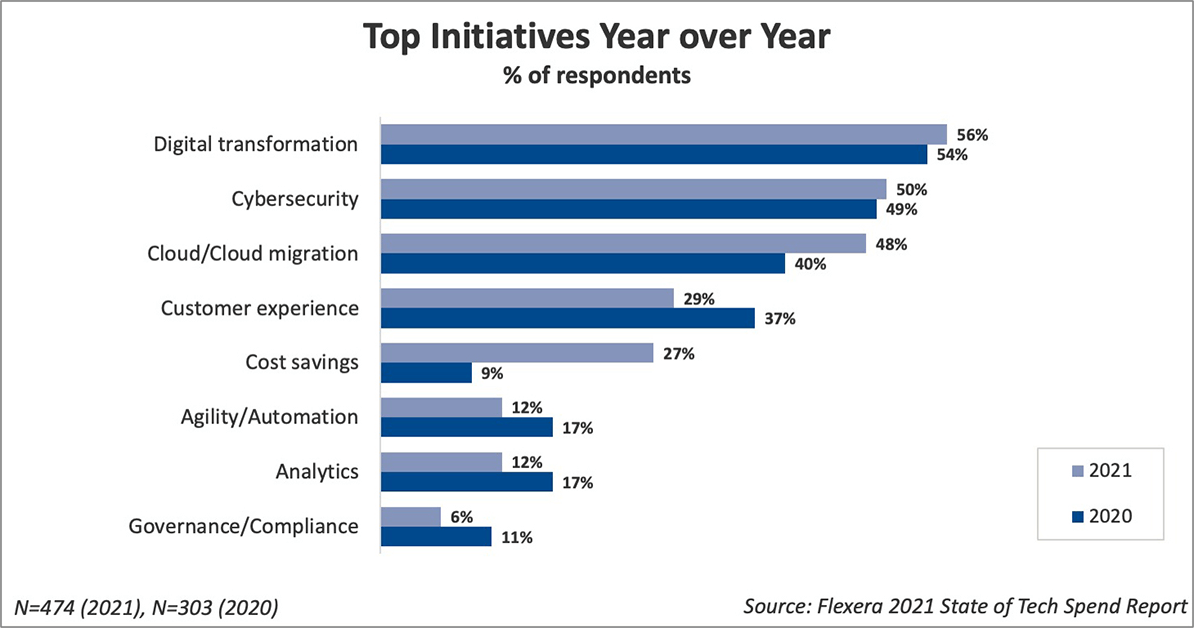 Top CIO priorities continue to be Digital Transformation, Cybersecurity, and Cloud Migration. This year, the biggest shift in CIO priorities is an increased focused on cost savings with 27% of respondents citing cost savings as a top initiative compared to 9% in 2020.
There are many technology budget and spend reports that provide a high-level perspective. But they don't track shifts in IT spend for those technologies that drive business transformation.
Our survey-based report delivers a unique and substantive view into changes around such topics as shifting software vendor spend, the ways organizations are trying to optimize their spend and the relevance of data centers.
This second annual Flexera report highlights the dramatic changes since last year's report. The COVID-19 pandemic has been a game changer in how it's forced organizations to accelerate digital transformation to support major changes in how people work and to help mitigate negative impacts of the economic downturn.
Get the report today.
View a selection of charts from the full report